Become a Member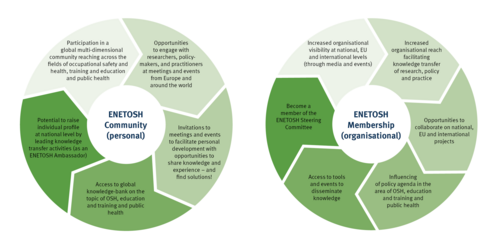 ENETOSH is an open network. Anyone who is committed to
integrating safety, health, and wellbeing into education and training to promote quality education and a culture of prevention for all
cooperating transdisciplinary and transnational across the policy areas of Occupational Safety and Health, Education, and Public Health,
can become a member. You can either become an official member of ENETOSH or a member of the ENETOSH Community.
To become an official member of ENETOSH it is necessary to apply for membership. There are institutional and individual members. The official membership has to be confirmed by the coordinator. Please download the membership application form: Membership form. Please send the completed form by e-mail. If you have any questions, please contact us at the same e-mail address.
To join the ENETOSH Community it is necessary to create an account by registering directly on the web platform. The COMMUNITY database offers information about members of the ENETOSH COMMUNITY including their contact data: COMMUNITY.
See the benefits of becoming a member of ENETOSH in the graph on this page.